PERM-A-BARRIER® S100 Sealant
One part neutral curing, ultra low modulus silicone sealant
Product Description
PERM-A-BARRIER® S100 Sealant is a one part neutral curing, ultra low modulus silicone sealant that reacts with atmospheric moisture to form a durable and flexible building sealant. S100 sealant is designed for a variety of uses with GCP Applied Technologies' air and weather barrier systems. The Volatile Organic Compound (VOC) content is <100 g/L.
Uses
S100 Sealant is ideally suited for the following uses:
Sealing of finished terminations, edges of patches and overlaps in detail areas
Sealing penetrations through GCP air and weather barrier systems, such as plumbing or ductwork
As a sheathing joint treatment for GCP fluid-applied air and weather barrier membranes
For sealing between window flanges and the air and weather barrier system.
Product Advantages
No primer—fast and easy application with minimum surface preparation
No staining or residue rundown
High movement capability
Adhesion—Strong adhesion to common construction substrates, such as wood, block, concrete, OSB, glass mat sheathing, metal, vinyl and PVC
Compatibility—Compatible with most GCP air and weather barrier systems 
Application Procedures
Safety, Storage and Handling Information
Refer to product label and Safety Data Sheet (SDS) before use. All users should acquaint themselves with this information prior to working with the material. Carefully read detailed precaution statements on the product labels and SDS before use. SDSs are available at gcpat.com.
S100 Sealant is available in 29 fl oz (0.858 L) cartridges. S100 Sealant has a shelf life of 12 months from the date of manufacture when stored in the original unopened cartridges between 40°F (4°C) and 80°F (27°C).
Surface Preparation
All surfaces must be clean, dry and free from dirt, grease oil, dust or other contaminants. S100 Sealant may be applied at temperatures of 20°F (-6.67°C) and above. When installing S100 in temperatures below 40 °F (4°C) the material should be kept in a heated truck or trailer prior to application.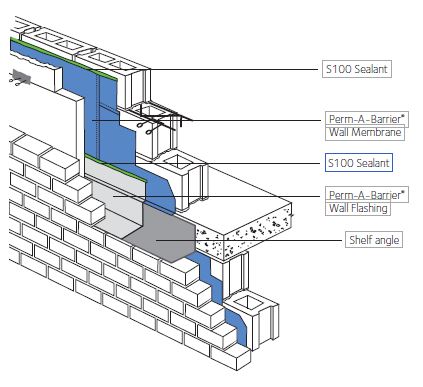 Application
Apply S100 Sealant with a caulking gun. When used as a seal for finished terminations, edges of patches and overlaps in detail areas, level the bead with a trowel to a minimum 0.125 in. (3 mm) thickness and 0.5 in. (13 mm) to 1 in. (25 mm) width.
When sealing penetrations, apply a 1 in. (25 mm) fillet to the base of the penetration and overlap onto the GCP air and weather barrier material and penetrant a minimum of 2.5 in. (64 mm).
When used to treat sheathing joints for GCP fluid-applied air and weather barrier membranes, completely fill the sheathing joint with sealant and then install a scratch coat of sealant with a margin trowel or similar onto the face of the sheathing approximately 1 in. (25 mm) on each side of the sheathing joint. Once the sealant is tack free, the fluid applied membrane may be applied, refer to the applicable product data sheets for detailed application instructions.
Cleaning
Clean tools and equipment with mineral spirits. Mineral spirits is a combustible liquid and should be used only in accordance with the mineral spirits manufacturer's safety recommendations. Do not use solvents to clean hands or skin.
Limitations
S100 Sealant should not be used in the following applications:
Below grade
End of day terminations
Under GCP air and weather barrier membranes and flashing, except when used as a joint treatment for GCP fluid-applied membranes.
When terminating against PERM-A-BARRIER® VPS
Not for use with building materials that bleed oils, plasticizers or solvents
Firestopping applications
Supply
| S100 Sealant |   |
| --- | --- |
| Unit size | 29 fl oz (0.858 L) cartridge |
| Packaging | 10 cartridges/carton; 42 cartons/pallet |
Physical Properties
| Property |   |
| --- | --- |
| Color | Green |
| Tack Free Time | 1-2 hours |
| Cure Time | 7-14 days* |
| Full Adhesion | 7-14 days* |
Physical Properties
Typical Cured Properties After 7 days cure at 77ºF (25ºC), 50% R.H.
|   | Typical Value | Test Method |
| --- | --- | --- |
| Hardness (Shore A) | 20 | ASTM C661 |
| Elongation | 1000% | ASTM D412 |
| Modulus @ 100% Elongation | 30 psi | ASTM D412 |
| Ultimate Tensile Strength | 120 psi | ASTM D412 |
| Tear Strength | 30 pli | ASTM D624 |
*Curing and full adhesion time will vary depending on temperature and humidity
gcpat.com.au | Australia customer service: 1800 855 525
We hope the information here will be helpful. It is based on data and knowledge considered to be true and accurate, and is offered for consideration, investigation and verification by the user, but we do not warrant the results to be obtained. Please read all statements, recommendations, and suggestions in conjunction with our conditions of sale, which apply to all goods supplied by us. No statement, recommendation, or suggestion is intended for any use that would infringe any patent, copyright, or other third party right.
Perm-A-Barrier is a trademark, which may be registered in the United States and/or other countries, of GCP Applied Technologies Inc. This trademark list has been compiled using available published information as of the publication date and may not accurately reflect current trademark ownership or status.
© Copyright 2017 GCP Applied Technologies Inc. All rights reserved.

GCP Applied Technologies Inc., 2325 Lakeview Parkway, Alpharetta, GA 30009, USA
GCP Australia Pty. Ltd., 14 Colebard Street West, Archerfield, Brisbane, Queensland 4108, Australia
This document is only current as of the last updated date stated below and is valid only for use in Australia. It is important that you always refer to the currently available information at the URL below to provide the most current product information at the time of use. Additional literature such as Contractor Manuals, Technical Bulletins, Detail Drawings and detailing recommendations and other relevant documents are also available on www.gcpat.com.au. Information found on other websites must not be relied upon, as they may not be up-to-date or applicable to the conditions in your location and we do not accept any responsibility for their content. If there are any conflicts or if you need more information, please contact GCP Customer Service.
Last Updated: 2022-06-03
https://gcpat.com.au/en-gb/solutions/products/perm-a-barrier-air-barrier-system/perm-a-barrier-s100-sealant