ELIMINATOR® bridge deck waterproofing solution
Extending the life of road and railway bridges
Superior protection for bridge decks
Bridges are vulnerable, subject to attack by water, chloride and frost, leading to deterioration and issues with structural integrity. The installation of an effective waterproofing membrane is therefore an essential part of any bridge building or refurbishment programme. The ELIMINATOR® waterproofing system is a pioneering cold, spray-applied solution that can outlast the life of the structure - reducing future maintenance and associated costs and traffic disruptions.
Documents
ELIMINATOR® Product Documents
Overview
What is ELIMINATOR® waterproofing system?
The ELIMINATOR® system is a high performance waterproofing membrane based on unique ESSELAC® advanced resin technology. Developed for the protection of concrete and steel bridge decks, the ELIMINATOR® system has an unparalleled track record with thousands of structures waterproofed successfully throughout the world. The system features a range of innovative primers and bond coats which help to create composite action between the deck, waterproof membrane and substrate, ensuring that the membrane is fully bonded both downwards to the deck and upwards to the surfacing.
This durable, rapid-cure system forms a flexible, chemical resistant, and seamless waterproof membrane with no vulnerable joints, to deliver a watertight solution.
Application
The world's first cold, spray applied bridge deck waterproofing system, ELIMINATOR® revolutionised the waterproofing industry. Airless spray equipment has been specifically developed to meter, mix and apply the product to offer fast, simple and effective sealing, even on complex detailing. Outputs can reach in excess of 2,000m2 per day meaning less time spent on site. The ELIMINATOR® waterproofing system's fast cure means that other trades can access 1 hour after application, assisting contract progression. Applied in two separate colour-coded coats aids on-site quality assurance, ensuring a seamless and protective waterproof barrier is achieved. Application can be commenced in a range of climates, ELIMINATOR® cures rapidly in high humidity or low temperatures, allowing global application all year round.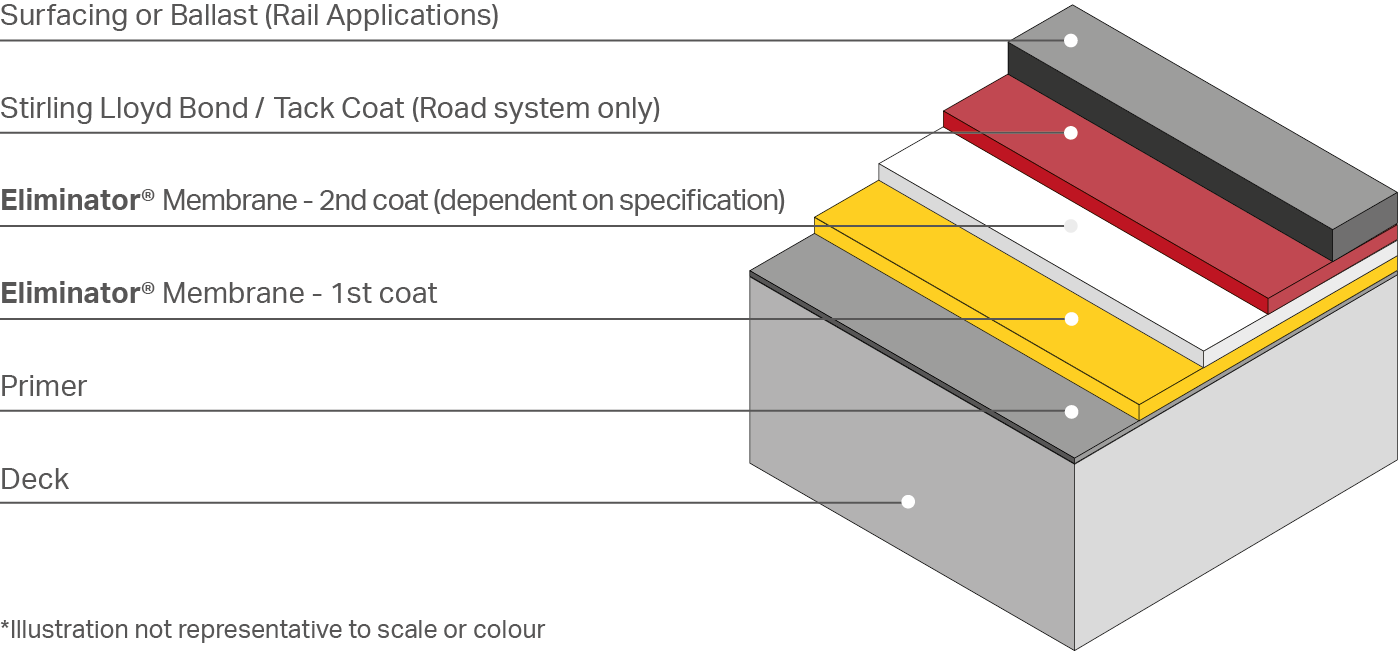 Product Advantages
Fast application with industry standard equipment, no need for hot trades
Requires minimal surface preparation
Provides effective sealing of complex, critical details and penetrations
Onsite quality control, ensuring the integrity of the membrane prior to surfacing
No critical overcoating time allows phasing of work, enabling greater scheduling flexibility
Unaffected by application of surfacing up to 250°C
Long lasting and highly durable, protecting the structure for the long term