PERM-A-BARRIER® Aluminum Flashing
Self-adhesive, rubberized asphalt detail membrane for air and vapour barrier applications
Product Description
PERM-A-BARRIER® Aluminum Flashing is ideal for protecting and sealing critical areas of the building superstructure from the damaging effects of the elements. By minimizing air and water vapor flow through the building exterior at transition areas, PERM-A-BARRIER® Aluminum Flashing:
 Seals transition and detail areas to provide a continuous air barrier
 Prevents premature deterioration of the building envelope.
Installation
Surface Preparation
Surface must be smooth, clean, dry and free of voids, spalled areas, loose aggregate, loose nails, sharp protrusions or other matter that will hinder the adhesion or regularity of the flashing installation. Clean loose dust or dirt from the surface to which the flashing is to be applied by wiping with a clean, dry cloth
or brush.
Temperature
PERM-A-BARRIER® Aluminum Flashing may only be applied in dry weather when air and surface temperatures are above -5°C.
Priming
Surfaces should be primed with one coat of GCP's solvent based primer - BITUTHENE® Primer S2. It is used to allow priming and installation of membrane on damp surfaces or "green" concrete. BITUTHENE® Primer S2 can be applied by brush or roller.
DO NOT apply any primer to PERM-A-BARRIER® Aluminum Flashing.
The drive for continual improvements in performance may result in product modifications. Your GCP representative will be able to provide up-to-date advice.
Aluminum Flashing Application
Pre-cut PERM-A-BARRIER® Aluminum Flashing to easily handled lengths. Peel release paper from roll to expose rubberized asphalt and carefully position tape against substrate. Press firmly into place with a steel hand roller or the back of a utility knife as soon as possible, fully adhering the tape to the substrate to prevent water from migrating under the PERM-A-BARRIER® Aluminum Flashing. Overlap adjacent pieces 50 mm and roll overlap with a smooth seam roller.
Perm A Barrier VC 20 and Perm A Barrier Detail Membrane
Apply a bead of BITUTHENE® Mastic along all top edges, cuts, penetrations and trowel into place.
If wrinkles develop, carefully cut out affected area and replace in similar procedure outlined in the application section. The repair piece must be pressed into place with a hand roller as soon as possible to ensure continuous and intimate contact with the substrate.
Membrane Protection
PERM-A-BARRIER® Aluminum Flashing must be protected from damage by other trades or construction materials.
Physical Properties
| | | |
| --- | --- | --- |
| Property | Typical Value | Test Method |
| Thickness | 1 mm | ASTM D3767 method A |
| Minimum tensile strength, membranes | 4.1 MPa (600 psi) | ASTM D412 die C modified |
| Minimum tensile strength, film | 27.6 MPa (4000 psi) | ASTM D412 die C modified |
| Minimum elongation, to failure of rubberized asphalt | 200 % | ASTM D412 die C modified |
| Pliability, at 180° bend over 25mm mandrel | Pass at -26°C | ASTM D1970 |
| Crack Cycling, 3.2 mm at -32ºC | Unaffected | ASTM C836 |
| Minimum puncture resistance, membrane | 355 N | ASTM E154 |
| Water absorption | 0.1 % | ASTM 570 |
All declared values shown in this data sheet are based on test results determined under laboratory conditions and with the product sample taken directly from stock in its original packing without any alteration or modification of its component parts.
Product Advantages
Fully bonded - transmits wind loads directly to the substrate.
Waterproof and impermeable to moisture - impermeable to the passage of liquid water and water vapour.
Aluminum film - provides extended UV exposure, improved sealant adhesion to film, dimensional stability, high tear strength, puncture and impact resistance.
Cold applied - no flame hazard; self-adhesive overlaps ensure continuity.
Flexible - accommodates minor settlement and shrinkage movement.
Controlled thickness - factory made sheet ensures constant, non-variable site application.
Aggressive, conformable adhesive - allows self-sealing around mechanical fasteners.
Wide application window - PERM-A-BARRIER® Aluminum Flashing surface and ambient temperatures at -5°C and above.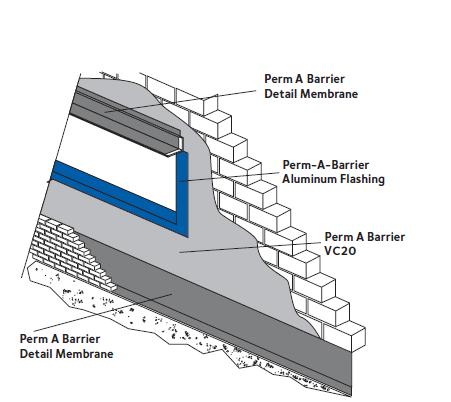 Details shown are typical illustrations only and not working drawings. For assistance with working drawings and additional technical advice please contact GCP Technical Services.
Storage and Handling Information
All materials must be protected from rain and physical damage. Pallets of PERM-A-BARRIER® Aluminum Flashing must not be double stacked on the job site. Provide cover on top and all sides, allowing for adequate ventilation. Store membrane where temperatures will not exceed 30°C for extended periods.
Supply
PERM-A-BARRIER® Aluminum Flashing
Widths
Rolls per carton
Approx. Weight per roll
100 mm x 15 m
18 rolls
1.6 kg
150 mm x 15 m
12 rolls
2.4 kg
225 mm x 15 m
6 rolls
3.7 kg
300 mm x 15 m
6 rolls
4.8 kg
Ancillary Products: BITUTHENE® Primer S2
Coverage

5 & 20 litre can 10-12 sq m per litre
(depending upon method of application, surface porosity and ambient temperature)
4.5 litre can

BITUTHENE® Mastic
 
Limitations
PERM-A-BARRIER® Aluminum Flashing can be used in cavity or vertical wall construction where extended UV exposure is required (up to 1 year). However,
PERM-A-BARRIER® Aluminum Flashing should not be used in applications such as roofing applications and open joint wall panels where it will be left permanently exposed to UV.
Health and Safety
There is no legal requirement for a Safety Data Sheet for PERM-A-BARRIER® membranes and flashing. Refer to product carton for additional safety information. For health and safety questions please contact GCP Applied Technologies Limited.
For BITUTHENE® Primer S2 and BITUTHENE® Mastic, read the product label and Safety Data Sheet (SDS) before use. Users must comply with all risk and safety phrases. SDS's can be obtained from GCP Applied Technologies.
gcpat.com.au | Australia customer service: 1800 855 525
We hope the information here will be helpful. It is based on data and knowledge considered to be true and accurate, and is offered for consideration, investigation and verification by the user, but we do not warrant the results to be obtained. Please read all statements, recommendations, and suggestions in conjunction with our conditions of sale, which apply to all goods supplied by us. No statement, recommendation, or suggestion is intended for any use that would infringe any patent, copyright, or other third party right.
Perm-A-Barrier is a trademark, which may be registered in the United States and/or other countries, of GCP Applied Technologies Inc. This trademark list has been compiled using available published information as of the publication date and may not accurately reflect current trademark ownership or status.
© Copyright 2017 GCP Applied Technologies Inc. All rights reserved.

GCP Applied Technologies Inc., 2325 Lakeview Parkway, Alpharetta, GA 30009, USA
GCP Australia Pty. Ltd., 14 Colebard Street West, Archerfield, Brisbane, Queensland 4108, Australia
This document is only current as of the last updated date stated below and is valid only for use in Australia. It is important that you always refer to the currently available information at the URL below to provide the most current product information at the time of use. Additional literature such as Contractor Manuals, Technical Bulletins, Detail Drawings and detailing recommendations and other relevant documents are also available on www.gcpat.com.au. Information found on other websites must not be relied upon, as they may not be up-to-date or applicable to the conditions in your location and we do not accept any responsibility for their content. If there are any conflicts or if you need more information, please contact GCP Customer Service.
Last Updated: 2022-01-31
https://gcpat.com.au/en-gb/solutions/products/perm-a-barrier-air-barrier-system/perm-a-barrier-aluminum-flashing